Approach
The CEO of TouchIntel approached me after reading some of the articles and podcasts I did. After reading them he got inspired on how to approach his own project but needed extra help, so he hired me.

During this collaboration I worked close with the CEO and involved him in all steps of the design process. Our first step was two sessions of idea generation and planning our collaboration. During these sessions we established the goals, concerns and pain points of our users. How we will know if the app is successful when it is released, what features should be included or not and what are the main KPI's for TouchIntel and clinic owners.
The calendar view allows the owner, or the managers, to see the clinic(s) calendar. It helps the owner to assign tasks, change meetings or appointments, see which city/location is the busiest and search information per practitioner. Or, it can also help and see which clinic needs the owner's attention for extra support.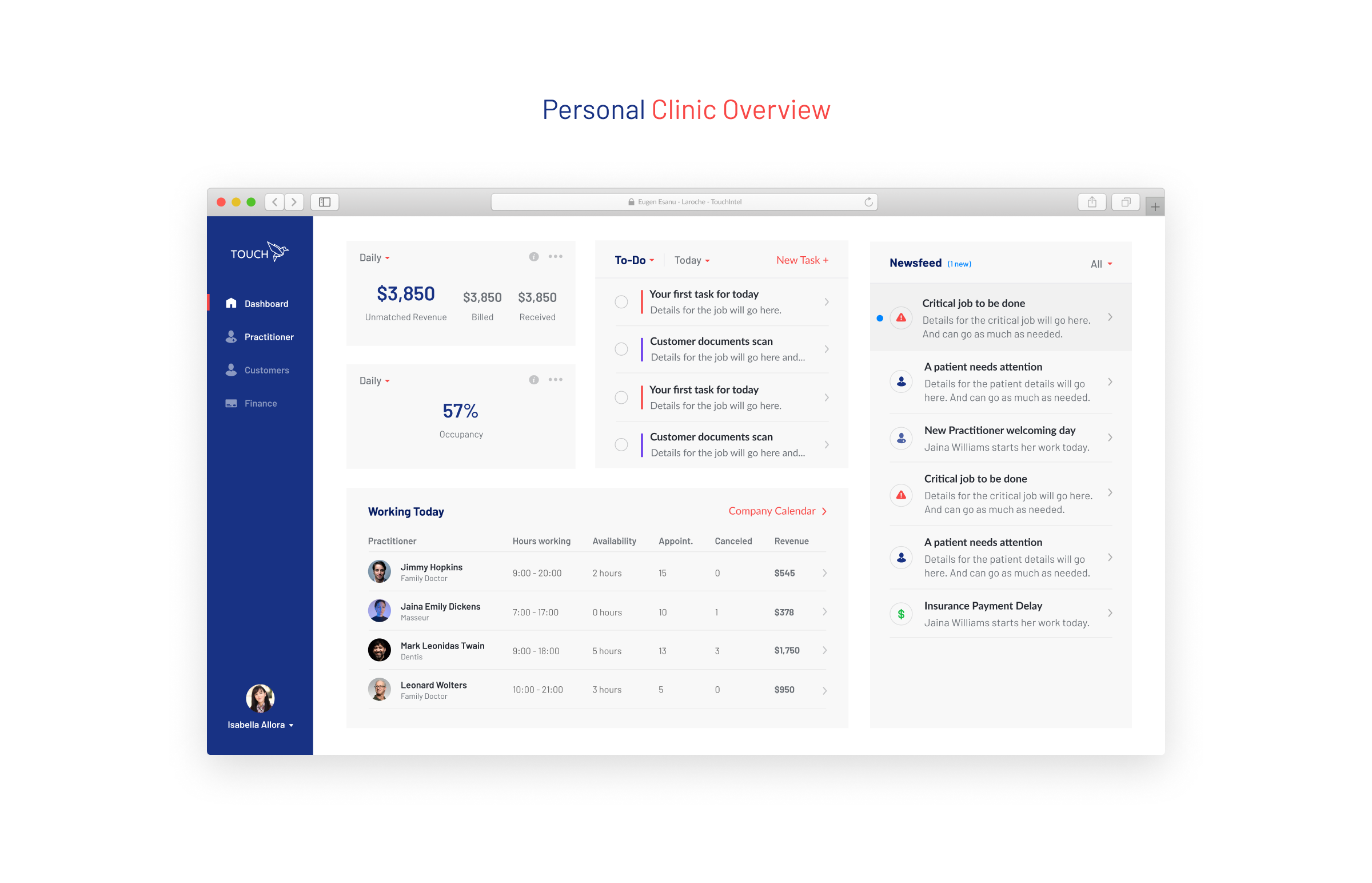 At a glance
After several iterations and customer inputs, we decided to include only several metrics which would allow the clinic owner to see at a glance how is his business doing. Also, the owner can see the current revenue stream, it's to do list from the front desk or insurance companies, and what is each employee doing.
Managing Employees
The app allows to see at a glance what each employee is doing, what's their schedule, how much revenue do they bring to the clinic, customer satisfaction, and other metrics. Together with the CEO and the input from several clinic owners, we decided to include only the key metrics which would allow to decide on spot about a specific employee.
Outcome
When TouchIntel was designed, it was still in the early stages of the company. The CEO was raising funds and pitching clients at the same time. Our collaboration helped him raise first seed round and sign several customers for product test. Currently the app is being developed.
Customer Review
"Our entire team loves it!" - Tyler Clark, Founder & CEO of TouchIntel